Reminiscent of cassoulet, the traditional French country dish made with white beans, pork sausage and often duck confit that simmers for hours (sometimes days!), this simpler one-dish stew comes together in no time, but is still soul-satisfying!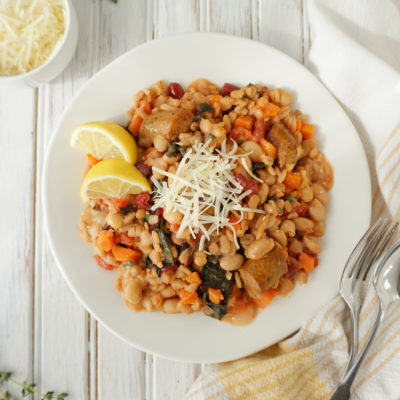 White Bean, Barley and Sausage Stew
Packed with protein, grains and greens, this one-dish meal is perfect for a chilly evening or after an active day when tanks need to be refueled on the quick!!
Ingredients
2

tablespoons

olive oil

1

medium yellow onion, chopped,

about 1-1/2 cups

3 to 4

medium carrots, peeled and chopped,

about 1-1/2 cups

4

fully-cooked spicy chicken sausages, such as Andouille, cut into bite-sized slices

(9-12 ounces total)

Salt and pepper

1

tablespoon

finely chopped garlic,

about 3 large cloves

2

cans (15.5 ounces each) great northern beans,

drained and rinsed

1

can (14.5 ounces) diced tomatoes,

undrained

3 to 4

cups

chicken broth,

preferrably low-sodium

1

cup

quick-cooking barley

8

ounces

Swiss chard (see note)

3 to 4 cups leaves, cut in 1/2-inch strips and 1 cup stems, cut in 1/4-in pieces

3

sprigs fresh thyme (see note) or 1/2 teaspoon dry thyme leaves

Lemon wedges and shredded Parmesan cheese

for serving
Instructions
Heat olive oil over medium heat in a large (4-quart) pot. Add onion and carrots, and saute (cook while stirring occasionally) until softened, 8 to 10 minutes. (Adjust heat to medium-low if onion is browning too quickly). Add sausage, ¼ teaspoon salt and 1/8 teaspoon pepper and cook until sausage begins to brown, 5 to 10 minutes. Stir in garlic and cook, 1 to 2 minutes. Add beans, canned tomatoes, 3 cups broth, barley, Swiss chard stems and thyme; bring to a simmer and cook, uncovered, for 10 minutes, stirring occasionally. Add Swiss chard leaves and continue to cook, uncovered, until chard leaves are wilted and barley is tender, 3 to 5 minutes. If you like a more saucy stew, add up to a cup of additional chicken broth to desired consistency. Season with salt and pepper to taste. Serve with lemon wedges for squeezing and a sprinkle of Parmesan cheese.
Notes
Swiss Chard is an often overlooked vegetable with tender leafy greens and often colorful stems that add texture, taste and nutritious benefits to any meal.   However, you can substitute kale leaves if Swiss chard is unavailable; add 4 packed cups of chopped kale when you add the white beans and other ingredients. 
If you use fresh thyme sprigs, the leaves should fall off the stem and season the stew during cooking.  Simply remove the stems from the pot before serving the stew.
Grace
Good and gracious God, you call us to serve each other with a humble and joyful spirit. As we share this simple meal, show us how we can assist both those who call on us for help and others whose voices are harder to hear. Help us to bring hope and healing to our everyday world.
Amen.