This galette recipe kinda happened by accident as we were hosting some of my son's college friends who ventured out of the city to join us for a summer dinner on the deck. Not knowing about appetites, I thought it best to prepare an extra galette. I had to improvise on the original nectarine-raspberry version when I was shy a couple nectarines. I had some blackberries on hand and tossed them into the filling. Everyone preferred this version! Galettes are so adaptable, you can experiment with different fruits according to the season. This rustic crust with a bit of whole wheat flour comes together with a few pulses in a food processor (or I have also included hand-mixing instructions). Too many people shy away from making homemade pastry crust when it is super simple and so much better than store-bought. Just don't skip the chill time!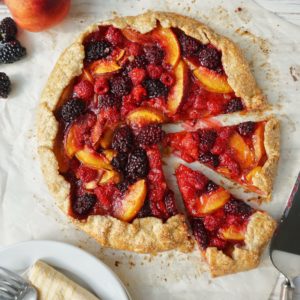 Nectarine Berry Galette
Quicker to put together than a pie, fruit galettes are a favorite at our house and make for an impressive, but easy dessert to share with friends. The hint of crystallized ginger adds a little zing to the juicy nectarines and berries. Feel free to experiment with different fruits depending on the season.
Equipment
Food Processor or Pastry Blender, optional (see note)

Rolling Pin

parchment paper
Ingredients
Pastry Dough:
1

cup

all-purpose flour

½

cup

whole wheat flour

2

teaspoons

sugar

½

teaspoon

salt

11

tablespoons

cold, unsalted butter,

cut into ½-inch pieces

1

large egg yolk

(reserve the white for the glaze)

¼

cup

ice water

(see Note)
Fruit Filling:
1/3

cup

sugar

2

tablespoons

cornstarch

1

tablespoon

finely chopped crystallized ginger

2

teaspoons

finely grated lemon zest

2

ripe, medium nectarines,

about 12 ounces total

1

container (6 ounces) blackberries

1

container (6 ounces) raspberries

1

tablespoon

cold, unsalted butter,

cut into small cubes about 1/4-inch

1

egg white,

lightly beaten

1-2

teaspoons

raw sugar,

optional
Instructions
To make the pastry dough: Combine all-purpose and whole wheat flours, sugar and salt in the bowl of a food processor fitted with the metal blade. (See NOTE for hand mixing instructions). Pulse a few times to combine the dry ingredients. Add the butter pieces and pulse until the mixture resembles pebbles and coarse sand without any pieces of butter larger than a lima bean. Whisk the egg yolk and the ice water, remove the lid of the food processor and drizzle the liquid evenly over the flour-butter mixture. Replace the lid and pulse just until the dough begins to hold together. Do not over mix. You will still see tiny bits of butter in the dough. Turn the dough out onto a large piece of plastic wrap and press into a disk about an inch thick. Wrap well and refrigerate at least one hour or up to one day ahead. (You can also freeze pastry dough, tightly wrapped, for up to 3 months. Thaw in refrigerator before using).

Preheat oven to 400ºF.

Unwrap dough and place in center of a 15-inch square piece of lightly floured parchment paper. If the dough is too cold to roll easily, let it stand for about 5 minutes to soften slightly. Roll dough with a rolling pin into a 12-inch circle, starting from the center of dough and rolling toward the outside edges. If the dough begins to stick to the rolling pin, sprinkle the dough with a little flour. Transfer dough circle on parchment paper onto a large rimmed baking sheet and refrigerate while making the filling.

Combine sugar, cornstarch, ginger and lemon zest in a large bowl. Remove pits from nectarines and slice into wedges about ½ inch thick. Place in the large bowl of sugar mixture and gently toss with a rubber spatula until evenly coated. Add berries and toss gently to mix. Remove dough circle from refrigerator and spoon fruit filling evenly onto dough, leaving about an inch and a half of dough uncovered around the edges. Sprinkle the butter pieces over filling. Fold over dough edges onto filling and gently pinch dough to pleat. Lightly whisk egg white and brush pastry edges; sprinkle pastry and filling with raw sugar if desired.

Bake in the center of the preheated oven until pastry is golden and filling is bubbly, about 45 minutes. Some juices may spill out onto the parchment which just adds to the rustic beauty of a galette. Let cool slightly or to room temperature. Galette is best served the day it is baked.

Makes 8 servings.
Notes
Starting with cold ingredients and not overworking the dough helps produce a flaky pastry crust, so before I begin making a galette, I add a few ice cubes to a small measuring cup of water and refrigerator it while I measure out all the ingredients. Then when its time to add the water I measure out a ¼ cup of the icy, cold water and quickly incorporate it into the dough.
To make dough by hand: Mix dry ingredients in a large bowl, add butter pieces and use a pastry blender (a small metal handheld tool) or your fingertips to incorporate butter into flour as described above. Make a well in center of dry ingredients, drizzle ice water and egg yolk into flour mixture and gently but thoroughly stir with a wooden spoon or rubber spatula until the dough starts to hold together.  Proceed as directed above.

Grace
God of all goodness and glory, thank you for the abundance of your blessings, for the beauty and sweetness of the fruits of the field. Show us how to use the work of our hands to share your bounty with those you entrust to our care.
Amen.