No need to spend all day making soup! This recipe has a little something for everyone–the tortellini make this soup a meal, plenty of veggies and a bit of kale pleases the health-minded and some lean spicy sausage adds a little protein kick!! It all comes together in less than an hour (my favorite ingredient)!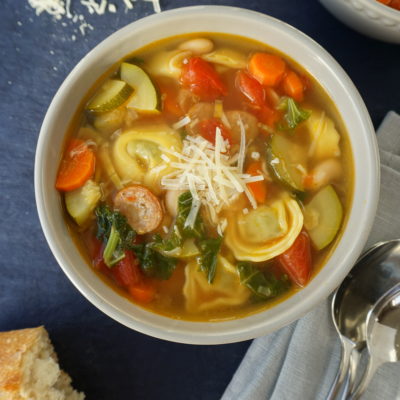 Tortellini and Kale Soup
A quick weeknight soup that comes together almost as quickly as a stop at your local grocery store soup bar. Improvise as you like, omitting sausage, adding spinach instead of kale. I love the leek, but you can also use a yellow onion in a pinch. The tortellini make this a hearty one-pot meal, but feel free to experiment with whatever pasta you have on hand.
Ingredients
1

medium leek

1

tablespoon

olive oil

3

medium carrots, sliced, cut any large slices in half

(about 1 cup)

1

medium zucchini, quartered lengthwise, sliced

(about 2 cups)

6

cups

chicken broth,

preferable low sodium

1

can (15.5 ounces) great northern beans,

drained and rinsed

1

can (14.5 ounces) diced tomatoes,

undrained

1 to 2

cups

water

1-1/2

teaspoons

chopped fresh thyme leaves

or ½ teaspoon dry

½

teaspoon

salt

1/8

teaspoon

pepper

1

package (9 to 10 ounces) fresh spinach or cheese tortellini

2

spicy, fully cooked chicken sausages (about 4.5 ounces total), sliced

such as andouille

1-1/2

cups

coarsely chopped or shredded kale leaves
Instructions
Trim off and discard any very dark green part of the leek. Slice remaining leek in half lengthwise and rinse under running water, separating layers of leek to wash away dirt and sand. Slice leek crosswise.

Heat oil in a 4 to 6-quart pot over medium-low heat and add leek and carrots; cook, stirring often, until wilted, about 8 minutes. Add zucchini and cook 1 to 2 minutes. Add broth, beans, tomatoes, 1 cup water, thyme, salt and pepper; bring to boil. Add tortellini and sausages, reduce heat to simmer, partially covered (see NOTE), 10-13 minutes, until tortellini is just tender. Add kale and simmer until wilted, about 2 minutes. If soup seems too thick, add a little water (or broth if you have extra) to achieve desired consistency. Season with salt and pepper to taste.

Serve with Parmesan cheese.

Makes 12 cups
Notes
NOTE: To simmer partially covered, place cover slightly askew on pot, leaving about 1-2 inches of open space between cover and rim of pot to allow some (but not too much!) steam to escape. This method also makes it easier to monitor the soup, adjusting the heat as necessary to keep a gentle simmer.
Grace
Loving God, you know when we are empty in body, mind or spirit. Help us to know we can always turn to you to be filled so that we can in turn share your soul satisfying love with those you've entrusted to our care.
Amen.