The combination of chewy farro, crunchy pecans and juicy pomegranate seeds is perfect for a variety of sweet, soft baked squash. I love that the skin of the Delicata squash is tender enough to eat, and I couldn't resist the Honeynut squash from our local farmers market; they are like mini Butternut squash only a little sweeter. Use whichever squash you prefer and simply adjust the cooking time for larger varieties. Pomegranate seeds (arils) are often sold in containers in the refrigerated produce section, but you can purchase a whole pomegranate and have fun removing the seeds yourself. A quick web search will pull up plenty of how-to videos and instructions; I like to cut into the pomegranate from top to bottom in 4 to 6 sections and pull the skin and pulp off over a big bowl of water, allowing the seeds to fall to the bottom while the skin and pulp floats to the top. Discard all except the juicy seeds which are also called arils.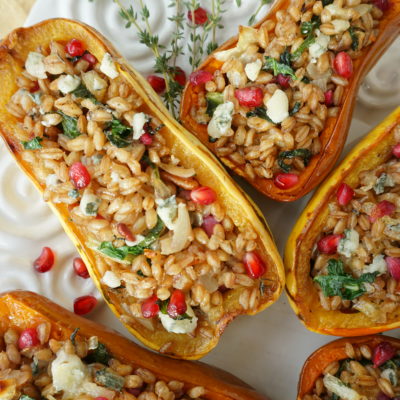 Farro Stuffed Winter Squash
This healthy, hearty side dish adds a great change of pace to midweek meals as well as a holiday spread. Feel free to add more cheese if you have avid blue cheese fans around your table.
Equipment
Large rimmed baking sheet

parchment paper
Ingredients
3 to 4

small winter squash,

such as Delicata or Honey Nut

1-1/2

tablespoons

olive oil,

divided

Salt and Pepper

1

medium onion

chopped (about 1-1/2 cups)
Farro Filling
3-1/2

cups

cooked farro

see NOTE

2

cups

shredded kale leaves

1

teaspoon

chopped fresh thyme leaves or ½ teaspoon dried thyme

¾

cup

crumbled blue cheese,

divided

½

cup

chopped pecans

½

cup

pomegranate seeds

(arils)
Instructions
Preheat oven to 400ºF. Line a 15 by 10-inch (or larger) rimmed baking sheet with parchment paper.

Cut each squash in half through the stem end. (You may need to carefully rock the chefs knife back and forth.) Scoop out and discard seeds. Place squash halves, cut side up, on prepared baking pan and lightly brush flesh with about 1/2 tablespoon olive oil. Season cut surface of squash with salt and pepper. Turn squash over so cut sides are on parchment and bake in the center of the preheated oven until tender but still holding their shape, 25 to 35 minutes depending on size.

Heat 1 tablespoon olive oil in large skillet over medium heat. Add onion and cook, stirring occasionally until onion is translucent, 6 to 8 minutes; reduce heat if necessary to avoid over browning. Add cooked farro, kale and thyme leaves and cook, stirring, until kale is wilted, 1-2 minutes. Remove from heat and stir in ½ cup blue cheese, the pecans and pomegranate seeds (arils). Season with salt and pepper as desired. Reserve.

When squash is tender, remove from oven and turn cut side up. Divide farro filling evenly among baked squash. Sprinkle remaining blue cheese on filling and return to the oven. Bake until heated through, 10 to 15 minutes.

Make 6-8 side dish servings.
Notes
NOTE: You can use either quick-cooking or regular farro.  Simmer farro according to package directions in a medium pot of water until tender, but chewy to yield 3-1/2 cups cooked.  I like to use quick-cooking farro and start with 1-1/2 cups dry farro and about 4 cups water which takes 10-15 minutes to cook.  Drain off any excess liquid as you do when cooking pasta.  If your farro is not quick cooking (precooked), plan on 25-40 minutes to cook until tender.
Grace
Lord of the harvest, thank you for the food set before us and bless all who helped plant, grow and gather the fruits, vegetables and grains that become part of our daily meals. May we all be good stewards of this beautiful earth, that your abundant gifts may sustain those of us here in your presence today as well as future generations.
Amen.