An impressive, rustic tart that combines sweet pears and caramelized onions with the rich flavors of prosciutto and sharp cheeses, all wrapped in a whole wheat pastry! Bring this show-stopping appetizer to your next gathering or serve with a simple green salad for a cozy mid-winter supper.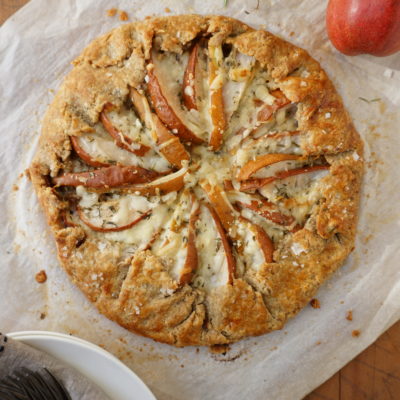 Savory Prosciutto-Pear Galette
There are a few steps to making this delicious and stunning galette, but you can make the pastry a day ahead as well as cook the onions up to 3 days ahead which streamlines the prep. Then all that is left is the fun of rolling the dough, layering the filling ingredients and baking!!
Equipment
parchment paper

cheese grater

Large rimmed baking sheet

Rolling Pin
Ingredients
Pastry Crust
1

cup

all-purpose flour

½

cup

whole wheat flour

½

teaspoon

salt

11

tablespoons

cold, unsalted butter,

cut into ½-inch pieces

1

large egg yolk

save the white for the glaze

¼

cup

ice water

See Note
Galette Filling
1

large yellow onion

thinly sliced (about 2 cups)

1

tablespoon

olive oil

plus additional if necessary

2

tablespoons

honey Dijon mustard

1

cup

shredded Gruyere cheese

see Note

½

cup

shredded sharp Cheddar cheese

see Note

5

thin slices prosciutto,

about 3 ounces

2

small pears,

cored and thinly sliced

1

teaspoon

chopped fresh thyme leaves

or ½ teaspoon dry

1

teaspoon

chopped fresh rosemary leaves

or ¼ teaspoon dry

Flaky or coarse salt,

if desired
Instructions
To make the pastry dough: Combine all-purpose and whole wheat flours and salt in the bowl of a food processor fitted with the metal blade. (See Note for hand mixing instructions). Pulse a few times to combine the dry ingredients. Add the butter pieces and pulse until the mixture resembles pebbles and coarse sand without any pieces of butter larger than a lima bean. Whisk the egg yolk and the ice water, remove the lid of the food processor and drizzle the liquid evenly over the flour-butter mixture. Replace the lid and pulse just until the dough begins to hold together. Do not over mix. You will still see tiny bits of butter in the dough. Turn the dough out onto a large piece of plastic wrap and press into a disk about an inch thick. Wrap well and refrigerate at least one hour or up to one day ahead. (You can also freeze pastry dough, tightly wrapped, for up to 3 months. Thaw in refrigerator before using).

Heat 1 tablespoon olive oil in large skillet over medium heat; add onion, breaking up slices and cook, stirring for 1-2 minutes. Reduce heat to medium-low and cook slowly, stirring often, until onion is soft, sweet, and lightly browned, 20 to 28 minutes. If onion starts to brown too quickly, reduce heat to low and add 1 to 2 teaspoons more olive oil. Reserve. (Caramelized onions can be made up to 3 days ahead and refrigerated, tightly wrapped; warm slightly in a pan over low heat before proceeding).

Preheat oven to 400ºF.

Remove pastry dough from refrigerator and place in center of a 15-inch square piece of lightly floured parchment paper. If the dough is too cold to roll easily, let it stand for about 5 minutes to soften slightly. Roll dough with a rolling pin, starting from the center of dough and rolling toward the outside edges, to a 12-inch circle. If the dough begins to stick to the rolling pin, sprinkle the dough with a little flour. Slide dough circle along with the parchment paper onto a large rimmed baking sheet.

Leaving a 1-1/2-inch border uncovered around the edges, layer the filling as follows onto the pastry: Spread honey mustard evenly onto pastry. Combine the cheeses and sprinkle half onto the mustard, then place the prosciutto in a single layer on the cheese. Add the onion in an even layer and sprinkle with half the herbs. Arrange the sliced pear in overlapping circles and top with the remaining cheese, allowing the pears to peek through the cheese shreds. Sprinkle the remaining herbs over all. Turn over uncovered dough border onto filling and gently press folded areas. Lightly whisk reserved egg white and brush pastry edges; sprinkle pastry and filling with flaky or coarse salt if desired.

Bake in the center of the preheated oven until pastry is golden brown and cheese is melted and lightly browned, about 30 minutes.

Remove galette on baking sheet and set on cooling rack. Serve warm or at room temperature.

Makes 8 to 12 servings.
Notes
Choose good quality Gruyere cheese, preferably imported, as the flavor is more pronounced.
For the sharp cheddar cheese, I used Unexpected Cheddar from Trader Joe's which is available as a block or shredded, but any sharp, flavorful cheddar cheese will work.
Pastry Making Tips:
Starting with cold ingredients and not overworking the dough helps produce a flaky pastry crust, so before I begin making a galette, I add a few ice cubes to a small measuring cup of water and refrigerator it while I measure out all the ingredients. Then when its time to add the water, I measure out a ¼ cup of the icy, cold water and quickly incorporate it into the dough.
To make dough by hand: Mix dry ingredients in a large bowl, add butter pieces and use a pastry blender (a small metal handheld tool) or your fingertips to incorporate butter into flour as described above. Make a well in center of flour mixture, drizzle ice water and egg yolk into flour mixture and gently but thoroughly stir with a wooden spoon or rubber spatula until the dough starts to hold together.  Proceed as directed above.
Grace
Dear Lord, thank you for your steadfast patience with us as we make our way through our daily lives, working hard, sometimes struggling to learn new tasks and ways of doing things. Show us how one step builds upon the next and that continued efforts and perseverance likely yields the abundant fruits that that you've had in store for us all along. Thank you too for being with us at all times.
Amen