Keep the grilling season going with these super simple turkey burgers. I love the pronounced flavor of the shredded Asiago cheese, but everyday sharp cheddar works just as well. The chopped parsley and green onion brighten up an ordinary burger and what doesn't taste better with a bit of smashed avocado?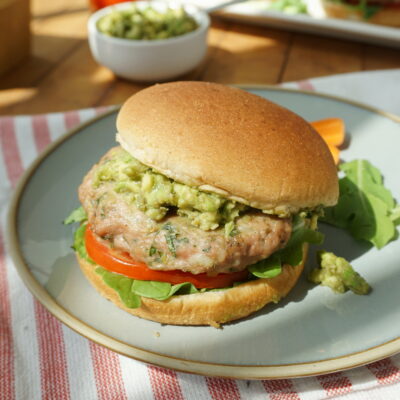 Turkey-Avocado Burgers
Switch up your regular burger routine with these super easy turkey burgers. Just a few mix-ins, like shredded cheese and plenty of green onion and parsley, give a bright, fresh flavor to these made-for-the-grill burgers, perfect for an easy weeknight dinner.
Ingredients
1

pound

lean ground turkey

¾

cup

shredded Asiago or sharp Cheddar cheese

¼

cup

finely chopped green onion

about 3

¼

cup

finely chopped fresh Italian parsley

¼

teaspoon

each salt and pepper

1

medium avocado, peeled, pitted and mashed

Arugula leaves

Tomato slices

4

toasted white or wheat hamburger buns
Instructions
Preheat grill to medium, about 350ºF. (See NOTE)

Mix turkey, shredded cheese, green onion, parsley, salt and pepper gently but thoroughly in a medium bowl, using with two forks. Shape the mixture into four equal patties, about 3-1/2 inches wide and ¾ inch thick. Grill patties on the preheated grill, covered, until thoroughly cooked (165ºF on an instant read thermometer), about 12 to 17 minutes total (see NOTE), turning 2 to 3 times for even cooking.

Place a few arugula leaves and sliced tomato on bottom buns. Add burgers, topped with smashed avocado and bun top.

Makes 4 burgers
Notes
For charcoal grilling, preheat coals until you can hold your hand about 4 inches above the evenly ash-covered coals for 4 seconds before the heat becomes too hot for your hand, indicating your coals are about medium heat. You can also cook the turkey burgers in a skillet or broiler according to your preferred method, making sure to thoroughly cook burgers to 165ºF.
Gas grills vary in how quickly and evenly they cook foods which explains the wider cook time range for these burgers. Get to know your grill; if there are hotter spots on your grill, place foods in the most medium heat areas. You may need to rotate foods during the grilling process to achieve the most even grilling.
Grace
Thank you God for the gift of this time to slow down for a bit around our table. Just as these simple ingredients add new flavor to our meal, help us to recognize the unique gifts that we are able to share with one another to bring a new ways of meeting challenges, solving problems and easing burdens. And of course remind us of your presence in all that we do. Amen.