A quick, healthy side salad to round out a family barbecue or take to a potluck gathering. Feel free to experiment with the many varieties of cabbages, greens and shredded slaw mixes in your market to create your own favorite combo. The crunch of the apple and sweetness of the dried fruit adds a little twist to the classic recipe. The fresh dill is totally personal choice– I like a hint of it, but my daughter prefers it without, so we serve dill on the side at our house.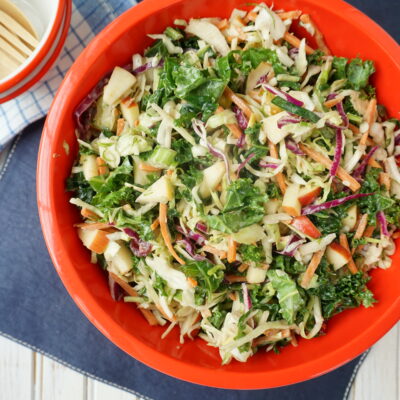 Kale and Apple Coleslaw
A favorite side dish, this twist on the classic slaw takes advantage of the variety of mixed greens and cabbages in the produce section these days. And the apple adds a little sweet crunch!
Ingredients
Dressing
1/3

cup

mayonnaise

1/3

cup

avocado oil or vegetable oil

1/3

cup

apple cider vinegar

2

tablespoons

honey

1

tablespoon

Dijon mustard

½

teaspoon

coarse salt

¼

teaspoon

pepper
Slaw
10

ounces

shredded green cabbage

about 7 cups

6

ounces

assorted shredded cabbages and kale mixture

about 6 cups (see NOTE)

5

ounces

shredded carrots

about 2 cups

1

large apple, cored and chopped into small pieces

½

cup

mixed dried fruit

(see NOTE)

1 to 2

teaspoons

chopped fresh dill

optional
Instructions
Whisk dressing ingredients together until combined; reserve.

Combine slaw ingredients except dill in a large bowl. Add all but about 2 tablespoons dressing and toss to combine. Refrigerate at least 30 minutes or up to 4 hours before serving. Just before serving, toss slaw with remaining dressing and dill, if using. (The dill flavor intensifies as it stands, so best to add just before serving. Dill can also be served on the side and added to individual servings as desired.)

Makes about 8 cups.
Notes
Shredded Cabbage Mix: You can use whatever combination of greens and cabbages you like. I discovered a Trader Joe's mix including shredded kale, Brussels sprouts, broccoli, green and red cabbages. You can certainly shred your own favorite combination too. Just use about the same amount of shredded greens and cabbages called for in the recipe.
Dried Fruit: I use a favorite mixed blend of dark and golden raisins, dried blueberries and cranberries. Feel free to use whatever dried fruit you have on hand or can find easily in your market.
Grace
God of endless blessings, open our eyes to your bountiful gifts that surprise us each day, a beautiful sunrise upon waking, a refreshing afternoon swim in the lake or ocean, a glimpse of a tiny hummingbird feeding or a majestic cardinal swooping across the yard. Help us all, no matter our age, to hold onto the childlike wonder that keeps joy in our hearts as we gather to celebrate life with each other.