Fresh and colorful tacos that go from grill to table in no time!!!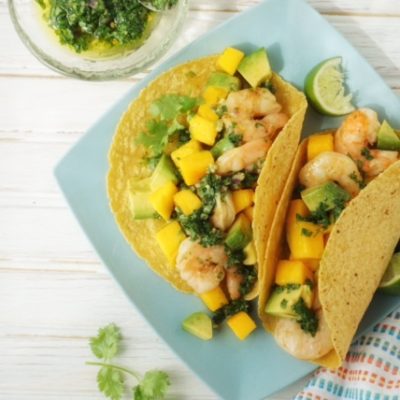 Shrimp, Avocado and Mango Tacos with Cilantro Citrus Sauce
These fresh and spicy tacos are a little messy to eat, but so, so yummy, you won't mind needing a few extra napkins.
Ingredients
Cilantro Sauce
1-1/2

cups

packed cilantro leaves, chopped

(about 1 cup chopped)

1/3

cup

olive oil

2

tablespoons

finely diced red onion

1

tablespoon

apple cider or white wine vinegar

1

tablespoon

orange juice

1-1/2

teaspoons

lime juice

1

teaspoon

finely chopped garlic

1

teaspoon

coarse salt

¼

teaspoons

crushed red pepper
Tacos
1

pound

shelled, deveined raw shrimp

1

tablespoon

orange juice

1-1/2

teaspoons

lime juice

1

tablespoon

olive oil

½

tsp

ground cumin

1

mango,

peeled, pitted, diced

1

avocado,

peeled, pitted, diced

8

medium tortillas,

either corn, flour or corn-wheat combination, warmed
Instructions
Combine sauce ingredients; set aside.

Combine orange and lime juices, olive oil and cumin and toss with shrimp. Divide shrimp among six 12-inch metal or bamboo* skewers, leaving a little space between shrimp. Preheat gas grill to medium heat (350ºto 400ºF) and grill shrimp until just firm and outside is light pink, 5 to 7 minutes, turning halfway through cooking.

Remove shrimp from skewers and serve in warm tortillas with mango and avocado. Drizzle with sauce.

Makes 4 to 6 servings.
Notes
*If using bamboo skewers, soak in water for 15 to 30 minutes before grilling.
NOTE: Shrimp can also be sauteed or broiled according to your preferred cooking method.