My favorite part of the traditional St. Patrick's Day corned beef and cabbage menu is the Irish soda bread. Enjoy this version with a little whole wheat flour and dried berry mix which gives a healthy update to the classic version.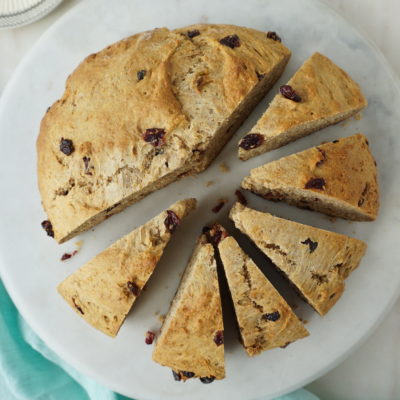 Irish Soda Bread
A little whole wheat flour and honey give add a healthy spin to this classic quick bread to round out your St. Patrick's Day meal. Consider baking it all year long for an easy breakfast or afternoon snack.
Ingredients
1-1/2

cups

all-purpose flour

1-1/2

cups

whole wheat flour

1

teaspoon

baking powder

1

teaspoon

baking soda

¼

teaspoon

salt

1

cup

buttermilk

½

cup

honey

1

egg

lightly beaten

¼

cup

melted butter

¾

cup

raisins or mixed dried fruit

see NOTE

Butter and/or jam for serving

if desired
Instructions
Preheat oven to 350ºF. Line a baking sheet with parchment paper.

Combine flours, baking powder, baking soda and salt in a large mixing bowl. Make a well in the center of the ingredients; set aside.

Combine buttermilk, honey and egg. Add buttermilk mixture and melted butter to well in the dry ingredients and stir until it becomes a soft dough. Stir in dried fruit just until evenly incorporated.

Transfer dough to parchment-lined baking sheet and, with lightly floured hands, shape into a round loaf about 6-inches wide. Make an "X" in the top of the loaf with a wet serrated or sharp knife.

Bake in the center of the preheated oven until toothpick comes out clean, 45 to 50 minutes, turning halfway through baking.

Cool on rack and cut into wedges or slices. Serve with butter and/or jam, if desired. Tightly wrap leftovers.

Makes 1 loaf.
Notes
I like to use a dried fruit mix from Trader Joes including, raisins, blueberries and cranberries.  You can stick with the traditional raisins or dried currents or experiment with your favorite dried fruit.
Grace
A little Irish blessing to offer before a smear of butter on this yummy bread 🙂
May you always have work for your hands to do.
May your pockets hold always a coin or two.
May the sun shine bright on your windowpane.
May the rainbow be certain to follow each rain.
May the hand of a friend always be near you.
And may God fill your heart with gladness to cheer you.