This little pasta dish is a classic, simple recipe, relying on the bedrock of Mediterranean flavors, good olive oil, garlic, parsley, and Parmesan tossed with your pasta of choice. I love bucatini, a hollow spaghetti that has a bit more texture and interest in my opinion than regular spaghetti, but feel free to use whatever long pasta you have in your pantry. I have added some garbanzo beans, a little diversion from the classic, but they add just a bit of protein and nutty flavor. And you gotta love a little sprinkle of breadcrumbs for some crunch. Its amazing how a few simple pantry staples can come together for a satisfying meal.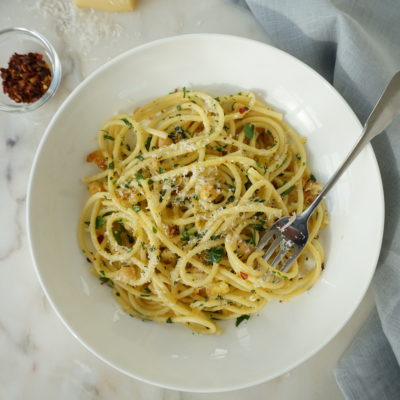 Garlic Parsley Pasta
Chances are you have everything you need in your pantry to make this dish. And if not, you most likely can improvise this recipe to fit what you have on hand. Pasta, garlic, parsley and olive oil are essential, but the rest can be tweaked and altered as you wish (see the NOTES section). Nothing fancy about this classic combo, but on a weeknight (or perhaps late night) when you have little time and energy, it is a perfect supper!!
Equipment
Food Processor or blender

to make fresh breadcrumbs
Ingredients
1

pound

dry bucatini or spaghetti

5

tablespoons

olive oil

divided, plus additional for serving

1

tablespoon

finely chopped garlic

1-1/2

cups

fresh breadcrumbs

see NOTE

½

cup

chopped fresh Italian (flat leaf) parsley,

divided

Salt and pepper

¾

cup

canned garbanzo beans, drained and rinsed

¼

teaspoon

crushed red pepper flakes

1

teaspoon

lemon zest

optional

grated Parmesan cheese

for serving
Instructions
Cook pasta according to package directions. Before draining, remove 1 cup pasta cooking water and reserve. Drain pasta and keep warm.

Meanwhile, heat 4 tablespoons olive oil in large skillet over medium heat. Add garlic and cook, stirring, just until fragrant but not brown, about 1 minute. Add breadcrumbs, ¼ cup parsley, about 1/8 teaspoon salt and a dash of pepper. Reduce heat to low and cook, stirring frequently, until breadcrumbs are toasted, about 5 minutes. Remove half the breadcrumbs and reserve. Add remaining tablespoon olive oil, garbanzo beans and crushed red pepper; cook, stirring, 1 minute. Add reserved cooked pasta, ½ cup pasta cooking water; toss to coat the pasta and simmer 1-2 minutes. If pasta seems dry, add the remaining pasta cooking water and cook one minute more. Add the remaining ¼ cup parsley and toss with lemon zest, if using (see NOTE). Season with salt and pepper to taste.

Sprinkle each serving of pasta with reserved breadcrumbs and grated Parmesan cheese. Bring extra olive oil to the table for an optional drizzle.

Makes 6 to 8 servings.
Notes
To make fresh breadcrumbs, tear stale bread or a slice or two of sandwich bread into medium sized pieces and place in a food processor with the metal blade or a blender and process until coarsely chopped. I will often process leftover bread and store in the freezer to keep on hand for recipes like this one. If you do not have garbanzo beans, this recipe will work fine without them. Conversely, if you love them, feel free to use the entire can!! The lemon zest gives the dish a fresh citrus flavor which some may love and other die hard garlic lovers may prefer to omit. Feel free to bring a lemon and grater to the table for everyone to decide for themselves.
Grace
Good and Gracious God, thank you for the gift of this simple meal as we sit down to restore our strength, refresh our mind and warm our hearts. Help us to recognize that, just as these humble ingredients are transformed into this delicious daily food, our own simple gifts and talents, paired with others, can renew our world in amazing ways.
Amen.