Perfect for a relaxed summer meal, the fresh lime and cilantro does not take long to impart plenty of flavor to simple grilled chicken breasts. This is my go-to, warm weather dinner and be sure to use leftovers for Mexican Grilled Chicken Salad.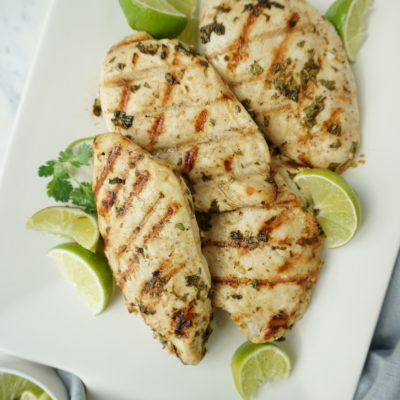 Cilantro-Lime Grilled Chicken
Simple, fresh ingredients pack a lot of flavor into this quick-to-prepare grilled chicken dish.
Ingredients
4

boneless, skinless chicken breast halves

(1-1/2 to 2 pounds total)
Marinade:
1/4

cup

coarsely chopped cilantro leaves

1/4

cup

olive oil

3

tablespoons

lime juice

2

teaspoons

finely chopped garlic

¾

teaspoon

ground cumin

¾

teaspoon

coarse salt

1/4

teaspoon

black pepper
Instructions
Place chicken breasts in a shallow, non-metal dish or in a resealable plastic food storage bag. Combine marinade ingredients and pour over chicken, turning to coat all sides evenly. Cover dish with plastic wrap or seal plastic bag and refrigerate for 30 minutes, turning chicken half way through marinating.

Meanwhile, preheat gas grill to medium heat (350º-450ºF.). Remove chicken from marinade, allowing excess marinade to drip off. Place chicken breasts on preheated grill grate and grill, covered, until chicken feels firm but not hard and is cooked through, 8 to 14 minutes, turning occasionally. The easiest way to check for doneness is with an instant read thermometer. Chicken should reach an interior temperature of 165ºF. when thoroughly cooked.

Remove chicken from grill, and allow to stand for 2-3 minutes before cutting.

Makes 4 to 6 servings.
Grace
Thank you God for the great outdoors, for the warmth of the sun, the gently winds and refreshing rains. Bless us as we gather around picnic tables, on porch swings and on backyard decks to share food and conversation with those you have brought into our good company this day.
Amen.