I have always love the combo of sharp cheddar and sweet-tart apple. In fact, my husband often asks for a slice of cheddar cheese to go with apple pie in place of the more traditional scoop of vanilla ice cream. These scones are just the right balance of savory cheese and rosemary with a hint of juicy apple and they pair well with a big bowl of soup, a ham and cheese omelet or see the recipe note for a simple, substantial appetizer version.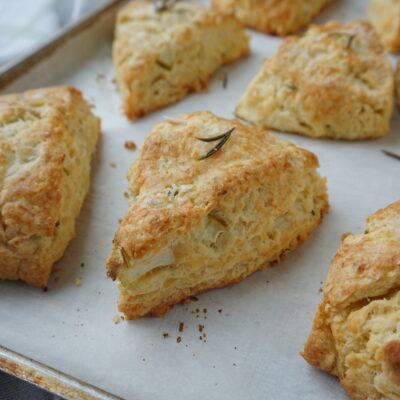 Cheddar Apple Scones
This classic combination of apples and sharp cheddar cheese comes together brilliantly in these flaky scones, perfect along side a bowl of piping hot soup or for a weekend brunch with omelets and fruit. See the note below for making a quick, but impressive appetizer version for easy at-home entertaining or to bring along to friend or family get togethers.
Equipment
parchment paper

Pastry Blender, optional

see NOTES

Rolling Pin

if you have one
Ingredients
2

cups

all-purpose flour

1

tablespoon

baking powder

2

teaspoons

sugar

½

teaspoon

salt

½

cup

(1 stick) cold, unsalted butter,

cut into ½ inch pieces

½

cup

half & half,

plus additional for brushing before baking

1

egg

1

cup

shredded sharp cheddar cheese

preferably from a block (see NOTES)

½

cup

small chopped unpeeled Granny Smith apple,

about 1/3 inch pieces

2

teaspoons

chopped fresh rosemary,

plus additional sprigs for garnish

Sea Salt Flakes or Coarse Salt,

for sprinkling, if desired
Instructions
Preheat oven to 400ºF. Line a baking sheet with parchment paper.

Combine flour, baking powder, sugar and salt in a large mixing bowl. Add butter pieces and cut into flour mixture with a handheld pastry blender (see NOTES), a fork or your fingers until butter is the size of peas and evenly dispersed. Stir together half & half and egg, breaking up the yolk. Make a well in the center of the flour-butter mixture and add the half & half-egg mixture. Stir with a spatula until mixture is moistened into a dough, being careful not to over mix. Add cheese, apple and rosemary and gently work into the dough until evenly combined. Turn out onto very lightly floured surface and shape into a disc, lightly kneading the dough if necessary for the dough to come together. Use a rolling pin or pat with hands into a 7-inch circle. Cut into 8 wedges (see NOTES for appetizer version) and place on parchment-lined baking sheet, about 2 inches apart. Lightly brush the surface of the scones with additional half & half, sprinkle with salt and garnish with rosemary sprigs as desired. Bake in the center of preheated oven for 22 to 25 minutes, until lightly browned, rotating the baking sheet half way through baking.

Makes 8 scones.
Notes
NOTES:
I recommend buying a block of your favorite, sharp cheddar cheese and shredding (regular shreds) with a grater rather than using pre-shredded cheese. The anti-caking ingredients found in pre-shredded cheese products does not work as well for baked recipes. A pastry blender is a very useful and inexpensive kitchen tool that I recommend for this recipe and others that call for mixing butter and dry ingredients, like pie dough, some bar cookies and streusel topping. You can find this handy tool at just about any housewares store or order online as well. Mine is a vintage variety so if you like to frequent garage sales or antique stores, you may find one there too. It is a small investment with great payback! To make these scones for appetizers, prepare the dough as directed and roll slightly thinner into a 9-inch circle (doesn't have to be perfect). Use a 2-3-inch cookie cutter to cut into desired bite-sized shapes. (I have used an oval cutter as well as a Christmas tree shape for a recent holiday gathering.) Gently reroll scraps to cut out as many as you can (usually about 20). Place on parchment lined baking sheet(s). Brush and sprinkle the surface of the scones as described above and bake about 15 minutes, until lightly browned. Serve with favorite fruit spread (I like fig!) and thinly sliced prosciutto for a yummy, substantial appetizer that is sure to bring compliments!!!
Grace
Thank you God for the gifts you have given us and help us to remember that they are gifts made to share. Show us how to bring our best selves to our family, neighbors and friends as well as those who we may not know yet, but who You, in your infinite wisdom, place along our life path. Bless our gatherings and enrich us with a spirit of joy and thanksgiving. In Jesus' name we pray, Amen.