The warm flavors of chilies and healthy squash, beans and brown rice combine for a welcomed side dish or meatless center-of-the-plate dinner on a chilly evening. Leftovers make a great lunch to eat desk-side the next day.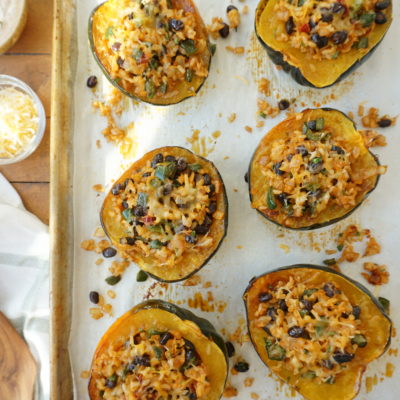 Poblano Pepper and Black Bean Stuffed Acorn Squash
Bake these slightly spicy stuffed squash as a side dish to your favorite simple meats or rotisserie chicken or serve as a veggie supper for a cool weather meal. Make the filling while the squash bakes to steamline the prep time, and feel free to use leftover or microwavable brown rice for the filling.
Equipment
rimmed baking pan

parchment paper
Ingredients
Spice Mix
1

teaspoon

chili powder

½

teaspoon

ground cumin

½

teaspoon

salt
3

small to medium acorn squash

1

tablespoon

olive oil,

plus addition for brushing squash
Filling
1

medium onion, chopped

(about 1-1/2 cups)

1

medium fresh poblano pepper, cut into small dice

(about 2/3 cup)

2

cups

cooked brown rice

1

cup

canned black beans, drained and rinsed

1

canned chipotle pepper in adobo sauce, finely chopped

(about 1 tablespoon)

3/4

cup plus 2 tablespoons

shredded Mexican cheese blend,

divided

2

tablespoons

chopped cilantro
Chipotle Sour Cream
2/3

cup

sour cream,

regular or light

2

tablespoons

adobo sauce,

reserved from canned chipotle pepper

2

tablespoons

chopped cilantro
Instructions
Preheat oven to 400ºF. Line a 15 by 10-inch (or larger) rimmed baking sheet with parchment paper.

Combine Spice Mix and reserve.

Cut each squash in half through the stem end. (You may need to carefully rock the chef's knife back and forth.) Scoop out and discard seeds. Place squash halves, cut side up, on prepared baking pan and lightly brush flesh with olive oil. Measure ¼ teaspoon Spice Mix and lightly sprinkle onto cut surfaces of squash. Turn squash over so cut sides are on parchment paper lined baking pan and bake in the center of the preheated oven until tender but still holding their shape, 35 to 45 minutes depending on size.

Meanwhile, prepare filling: Heat olive oil in large skillet over medium heat, add onion and poblano pepper and cook, stirring often, until onion is translucent, 6 to 8 minutes; reduce heat if necessary to avoid over browning. Stir in remaining Spice Mix and cook, stirring, 1-2 minutes. Stir in rice, black beans, and chipotle pepper and mix well. Remove from heat and cool slightly. Stir in ½ cup cheese and 2 tablespoons cilantro.

When squash is tender, remove from oven and turn cut side up. Divide filling evenly among baked squash. Sprinkle remaining cheese on filling and return to the oven. Bake until filling is heated and cheese is melted, 10 to 15 minutes.

Meanwhile, stir together Chipotle Sour Cream ingredients and serve as topping for squash.

Makes 6 side dish servings or 3-4 meatless main dish servings.
Grace
Good and gracious God, thank you for the many opportunities we have to enjoy the foods of other cultures and traditions. Just as new ingredients and flavors find their way into our own daily meals, help us to be a welcoming people, working always to widen our circle of friendship with others.
Amen.