A recent trip to Boston and Cape Cod inspired this chowder. No seafood in this one, but chunky potatoes and rich roasted butternut squash are the perfect combo for this autumn soup. The prep work can be done while the squash is roasting, which makes this a great Sunday supper and you'll love the leftovers after work or for a take-from-home lunch.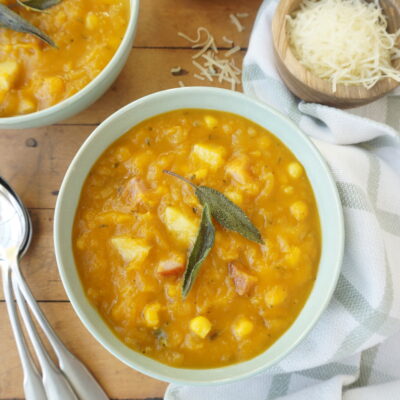 Butternut Squash Chowder
Serve this hearty soup with good crusty bread and a glass of wine for a warm meal on a chilly evening. Feel free to omit ham and use vegetable broth for a vegetarian option. Or top with crumbled bacon or sauteed pancetta instead of the chopped ham.
Equipment
1 immersion blender, blender or food processor

An immersion blender takes a lot of the mess out of soup making! I love mine, easy to store and clean up and so much less clean-up.

parchment paper
Ingredients
1

butternut squash

about 3-1/4 pounds

1-1/2

tablespoons

olive oil,

divided, plus additional for brushing squash

Salt and pepper

1-1/2

tablespoons

unsalted butter,

divided

2

cups

chopped onion,

about 2 medium

2

teaspoons

chopped fresh thyme leaves or ¾ teaspoon dry

1

teaspoon

chopped fresh sage leaves or ½ teaspoon dry

¼

teaspoon

salt

5 to 6

cups

low salt chicken broth,

plus additional if thinner soup is desired

1

pound

small yellow potatoes, cut into ½-inch pieces

1

cup

corn kernels,

fresh or frozen

1

cup

chopped ham

½ to ¾

cup

heavy cream,

optional

1/2

cup

whole fresh sage leaves,

optional

Shredded Parmesan or Gruyere cheese,

for serving, if desired
Instructions
Preheat oven to 400ºF. Line a heavy, rimmed baking sheet with parchment paper. Carefully cut squash in half lengthwise through the stem end with a sharp, heavy knife. Scoop out seeds and pulp and discard. Lightly brush cut sides of squash with some olive oil and season with salt and pepper. Place squash halves, cut sides down, on parchment paper-lined baking sheet. Bake in the center of the oven until tender, 60 to 70 minutes. Remove from oven and cool until squash can be handled, scoop out tender squash flesh and set aside; discard the rind. You should have at least 3-1/2 cups squash.

Meanwhile, melt 1 tablespoon each butter and olive oil in a large pot over medium-low heat; add onion and cook slowly, stirring often, until onion is tender and just beginning to brown, about 15 minutes. Reduce heat to low if onion is browning too quickly. Add thyme, chopped sage and salt and cook 1 to 2 minutes to release flavor. Add squash flesh and 4 cups broth; stir to combine. Puree squash mixture with an immersion blender until smooth (or puree in a blender or food processor in batches if necessary; return to pot). Add potatoes, corn and ham. Mixture is very thick; if desired add 1 to 2 cups additional chicken broth for thinner consistency. Bring soup to boil, reduce heat and simmer, partially covered, until potatoes are tender, about 10 -12 minutes. Season with salt and pepper to taste.

Meanwhile, to prepare sauteed sage for crumbling onto soup: melt remaining ½ tablespoon each butter and olive oil in small to medium skillet over medium-high heat and saute whole sage leaves until browned and crisp but not blackened, 2 to 4 minutes, stirring often. Remove to paper towel-lined plate and set aside for serving.

If a creamier soup is desired, add heavy cream (see NOTE). Pass the shredded cheese and crumble sage onto soup as desired.

Makes 10 to 12 cups.
Notes
NOTE: The heavy cream is simply a matter of taste. I prefer the herb and squash flavors without the mellowness of cream, but it does add an appealing richness that may please some around your table. Feel free to pass a little pitcher of cream at the table for anyone who wants to add a drizzle.
Grace
Gather us in Lord around the table after our day of work or rest. We are grateful for the warmth of this meal that nourishes us to be your hands and feet in the world and for your spirit that seasons our conversation with heartfelt joy and love. Amen.